New in my Zazzle shop!
Red and white basketball custom players names stickers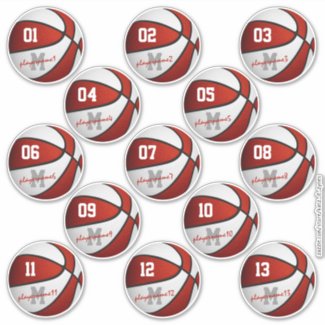 Economically priced at a little more than $1 per sticker, this set of 13 team colors basketball stickers would make great team gifts, suitable for boys or girls. This sticker sheet features basketballs with recolored alternating red and white panels upon which you can customize each player's name & jersey number plus varsity letter or monogram - each sticker measures approximately 3 inches. These vinyl stickers are removable and have low-tack adhesive that leaves no sticky residue.
-- click to customize these basketball stickers
in my Zazzle shop --
Buy with confidence with the
Zazzle 100% satisfaction guarantee
More color variations are available
Many more team colors basketball-themed stickers are available in my Zazzle shop
-- click here to browse