Have you seen this
team colors basketball iPhone case
in my Zazzle shop?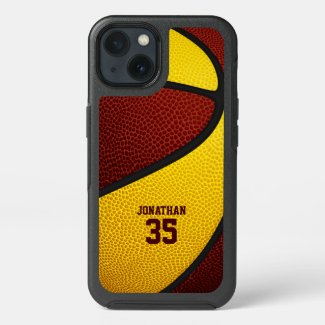 Maroon & gold team colors personalized
basketball OtterBox iPhone case
This basketball themed OtterBox iPhone case is suitable for a boy or a girl and features the image of an abstractly enlarged basketball with alternating recolored maroon and gold panels - personalize with the athlete's name and jersey number
-- click to customize this basketball themed phone case
in my Zazzle shop --
Buy with confidence with the
Zazzle 100% satisfaction guarantee
Many more team color combinations are available
-- select your phone model on the Zazzle product page --

These basketball iPhone cases feature varied size basketballs randomly turned every which way overlying the image of an abstractly oversized basketball. Each basketball in the pattern has two recolored panels, representing the athlete's team colors. Personalize with the athlete's monogram.
Many more team color combinations are available
Click here to browse all basketball themed cases
and tech accessories for boys & girls
in my Zazzle shop
update September 2023