Have you seen this
orange & black team colors volleyball magnet
in my Zazzle shop?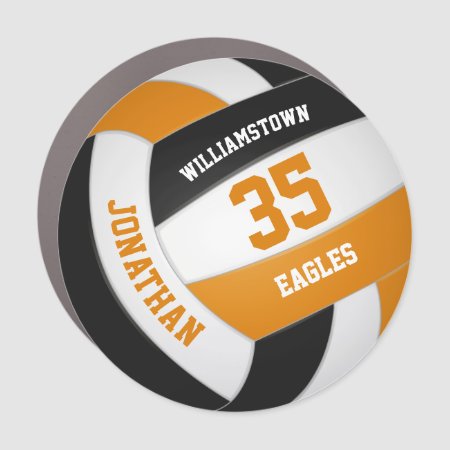 Black & orange volleyball team pride magnet for locker or car
Thanks to a customer request, I was alerted that Zazzle offers these cool flexible magnets. These are marketed on Zazzle's product page as a car magnet, but when displayed on team members' lockers, these would make a fun team spirit builder on game day.
This volleyball themed locker or car magnet with custom team colors features the realistic image of a volleyball with black, orange and white panels, upon which you can customize the player's name & jersey number plus school or club name and mascot name in a varsity letter style font.
Are you personalizing a magnet for each member of the team? Simply click "Personalize this template" on the magnet product page and customize one magnet for one team member. Add that magnet to your cart, then go back to the magnet product page and repeat the process for each recipient.
Choose from three round magnet sizes -- 3" x 3", 5" x 5", & 7" x 7"
-- click to customize this volleyball magnet
in my Zazzle shop --
Buy with confidence with the
Zazzle 100% satisfaction guarantee
More team color combinations are available
You can search my Zazzle shop:
click here to search all volleyball team spirit magnets
click here to shop my "Volleyball school colors team spirit gifts" collection on Zazzle that includes keychains, stickers & luggage tags in an extensive variety of custom team color combinations
click here to search over 200 sports themed magnets,
including soccer, basketball, baseball, & softball
Thanks for visiting katz_d_zynes :)