Check out what's new in my Zazzle shop!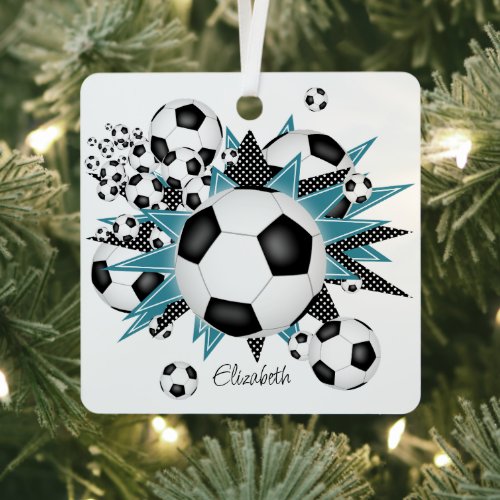 Girl's soccer balls with teal & black stars keepsake metal ornament
This sporty soccer themed ornament for girls features an "explosion" of soccer balls in varying sizes and teal, black and white star shapes. A tiny white polka dots pattern overlies the black star.
Customize with her name on the front and commemorative year on the back for a unique keepsake gift she will treasure for years to come 😍
Click the ornament image to visit Zazzle where you can customize it and place your order. Choose from a variety of ornament shapes & styles, including metal (shown here), ceramic & beveled glass.
Buy with confidence with the
Zazzle 100% satisfaction guarantee
More color combinations are available
See more in my Zazzle shop:
An extensive variety of color combinations in this updated design style & more are available in my shop for girls & boys--click here to search
Click here to search my shop
Thanks for visiting katz_d_zynes :)