More new custom colors volleyball blankets have arrived
in my Zazzle shop!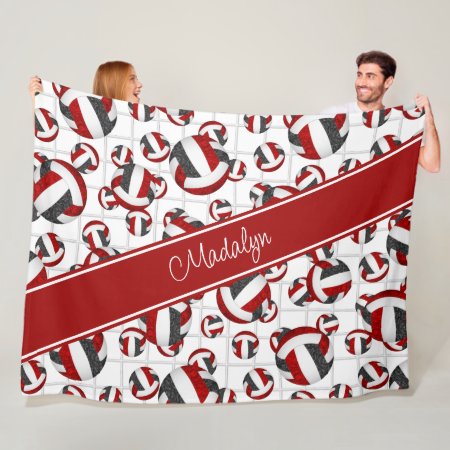 Red & black girly team colors volleyballs pattern with net accent background
personalized fleece blanket
This large 60" x 80" volleyball themed fleece blanket for her volleyball room features a pattern of varied size stylized red, black and white volleyballs turned every which way overlying a volleyball net detail accent on a customizable white background. The volleyballs' red and black panels are blended with an artsy, girly floral pattern.
Personalize this cute volleyball team colors fleece blanket with her name in a sophisticated handwritten font on a bold, angled, full width red color strip.
Click the blanket image to visit Zazzle where you can customize the athlete's name and, if desired, the blanket background & name strip color, and place your order. Two smaller blanket sizes are available.
Are you personalizing a blanket for each member of the team? Simply click "Personalize this template" on the blanket product page and customize one blanket for one team member. Add that blanket to your cart, then go back to the blanket product page and repeat the process for each recipient.
Buy with confidence with the
Zazzle 100% satisfaction guarantee
Additional color themes are available

These colorful volleyball fleece blankets can be personalized with the athlete's name and monogram and feature stylized team colors volleyballs of varying sizes turned every which way in a fun, 3D-look pattern. The volleyballs' non-white panels are blended with an cute artsy floral pattern.
update nov22
Click the image above to browse katzdzynes' "Volleyballs with net accent pattern decor" collection that includes new coordinating pillows
update September 2023