New basketball blankets have arrived in my Zazzle shop!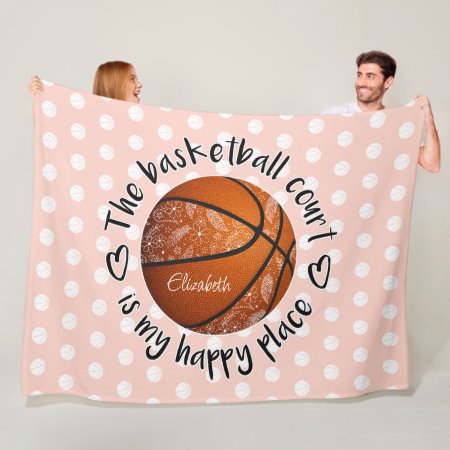 Boho flowers feathers & paislies "The basketball court is my happy place" personalized fleece blanket
This cozy basketball themed fleece blanket for her basketball room features the image of a stylized basketball encircled with the text, "The basketball court is my happy place" in black in a fun and casual, handwritten style font with two hand drawn heart outlines.
Delicate hand-drawn doodle flowers, feathers and paislies are patterned on the basketball's alternating panels, and tiny white basketballs create a polka dots pattern that overlies the customizable pastel peach background 
Customize this large 60" x 80" basketball-themed fleece blanket with her name in a girly, handwritten-style font.
Click the blanket image to visit Zazzle where you can personalize the athlete's name and place your order. Two smaller sizes are available.
Buy with confidence with the
Zazzle 100% satisfaction guarantee
Additional color themes are available